Colombia Captivates and Delights
According to an Incentive Research Foundation study, well-designed and executed incentive trips can increase sales productivity by 18% and produce a ROI of up to 112%. If Colombia has not been on your radar yet for incentive travel programs, it is well worth considering as an exciting alternative to traditional sun destinations. This country has so much to offer its visitors. From Cartagena's fortifications dating from the 16th century to Bogota's farm to café coffee culture to Medellin's burgeoning arts scene, Colombia has officially arrived as a noteworthy and vibrant tourism destination. A memorable and rewarding incentive trip option, especially for well-travelled participants who are looking for a unique and enriching program they wouldn't necessarily replicate on their own.
Tourism in Colombia has grown over the last decade by 95% and the country has evolved as a global powerhouse in the meetings and events sector. The South American country has an immense cultural wealth to offer its visitors along with its famous "Sabrosura". This term translates roughly as a joyful attitude that transforms its visitors into friends. It is a word synonymous with the country's infectious spirit of joy, passion and laughter.
A diverse variety of climates, strikingly beautiful landscapes and bustling cities bursting with culture offer variety in incentive program itineraries. Beautiful and peaceful island beaches, snow-capped mountains, the Amazon jungle, some of the greatest diversity of birds, animals and plants on the planet; extremely friendly people, amazing gastronomy, history, art and culture are all highlights of this destination.
The country's political stability and hotel development tax incentives in the last decade have attracted global brands such as Conrad Hotels, Hyatt, Four Seasons Hotels & Resorts, and Marriott to invest here. Amazing experiences await incentive groups with various possible combined itineraries.
Bogotá is a vibrant, resurgent city rich in culture, creativity and cuisine with strong infrastructure and a blend of colonial and postmodern-style architecture. It stands out as one of South America's most exciting cities at 2,640 metres above sea level. To the east, lie the Andes and at its highest peak, overlooking the city, sits Monserrate at 3,152 metres. Incentive travel to the Colombian capital is a sophisticated experience as first-class bars, restaurants and hotels abound. The city is quickly becoming a hot culinary destination with a mix of innovative new restaurants and old-school street snacks. Zona G is referred to as the Gourmet Zone due to its collection of top-notch restaurants, perfectly suited for group dine-arounds.
A daytrip to the Zipaquirá Salt Cathedral (an underground Roman Catholic church built within the tunnels of a salt mine) is one of Colombia's most popular attractions. Enjoy a cable car journey to the gleaming white Basilica of El Señor Caido of Monserrate (Monserrate Sanctuary), surrounded by the high Andean forest. Indulge in an escape to the quaint towns and lush green landscapes that surround the city. Spend a day in the Colombian countryside at a hacienda enjoying a delicious traditional Colombian lunch along with horseback riding and scenic hiking trails to explore.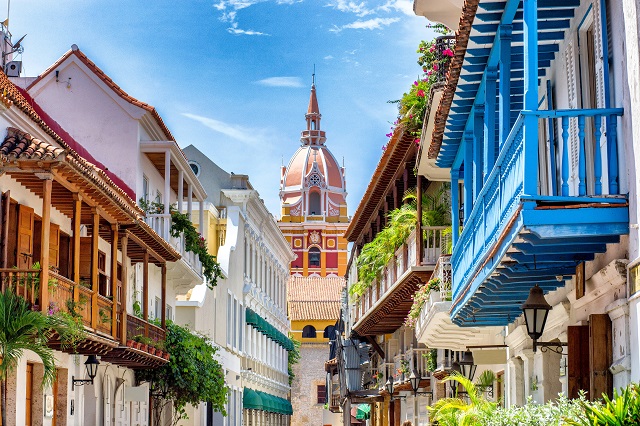 Cartagena de Indias is one of the most exquisite colonial cities in Latin America. It fascinates visitors with its history, picturesque cobblestone streets, balconies overflowing with colourful bougainvillea along with its beautiful beaches, thriving nightlife, incredible restaurants and elegant hotels. Cartagena's historic centre was declared a world heritage site by UNESCO in 1984 and is believed to be the inspiration for the setting in Love in the Time of Cholera by Nobel Laureate Gabriel Garcia Marquez. Strongholds, forts, museums and open squares can be used to host impressive and exclusive events. Fascinating cultural activities enchant visitors including tours of the Castle of San Felipe de Barajas. Combine your stay in Cartagena with blissful beach days on the Islas del Rosario just an hour away, some private islands here are designed exclusively for groups.
Colombia is accessible and convenient with six international airports welcoming visitors from 46 cities across all major carriers. Air Canada offers daily direct flights from Toronto to Bogotá in peak season and Cartagena nonstop flights are available on weekends. There are more than 39 daily flights between Bogotá and Cartagena for easy split city itineraries. The airlines that operate these flights are Avianca, LATAM and VivaColombia - the flight lasts about an hour and a half.
A destination that can offer even the most discerning clients variety, comfort and exclusivity, Colombia is a unique and memorable experience for incentive travel rewards. Contact us to learn more or to plan your 2019 itinerary!